Alzheimer's and Parkinson's are examples of neurodegenerative diseases that affect people worldwide. Through the nEUROcare project, Kristianstad University, together with other European universities, contributes to the training of health care professionals in Sri Lanka. Last week, professionals from Europe and Sri Lanka met at Bäckaskog Castle.
The EU project nEUROcare aims to create a master's program for health care professionals on neurodegenerative diseases in Sri Lanka. As the population of Sri Lanka has grown older, awareness of neurodegenerative diseases in the country has increased, which has highlighted a need for higher education. There is currently no similar education in the country and the project is expected to contribute to increased knowledge among health care professionals about neurodegenerative diseases, which could contribute to more people being diagnosed and receiving professional help as well as more person-centre care for both the affected people and their families.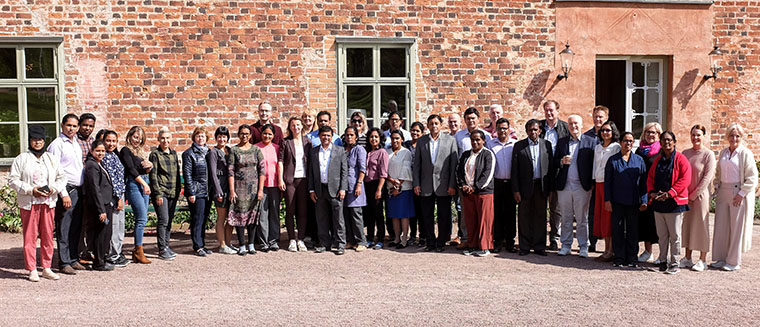 The next step is to design the content of the education and ensure that the format is in accordance with the rules in Sri Lanka. It is intended that the application to have the master's degree approved will be submitted in January 2024. Before that, the partnership will record over 350 hours of lectures and develop all other material that will be included in the 1500 hours of education.
Last week, 43 employees from five European and four Sri Lankan universities met at Bäckaskog Castle to work on the joint and multi-year project nEUROcare (618596-EPP-1-2020-1-SE-EPPKA2-CBHE-JP) which receives funding from Erasmus + Capacity Building for Higher Education.
The project has been going on for a couple of years, but on a limited scale due to covid-19. This was the first real meeting with all project partners involved, which was really good. Now it feels like we're up and running. It was a very productive meeting in combination with us getting to know each other better, which makes cooperation in the future easier.
Kristianstad University is the initiator of the project. Participating organizations are Neapolis University Paphos (Cyprus), University of Tartu (Estonia), Triskelion (Norway), University of Ljubljana (Slovenia), Colombo University (Sri Lanka), General Sir John Kotelawala Defense University (Sri Lanka), University of Peradeniya (Sri Lanka) and University of Ruhuna (Sri Lanka).