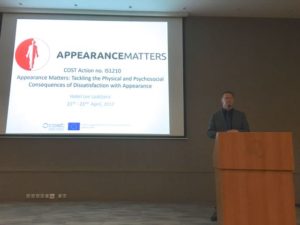 The Cost action IS1210 had their final conference- An International Conference about the Impact of Appearance in our Society held in  Ljubljana| Slovenija 20th to 22nd April 2017. Dr. Martin Persson, Thomas Nilsen and Ingrid Øverbø from Triskelion participated. Thomas joined the presentation from work group 4-"Understanding health behaviour and body image among university students – a cross national comparison" and EU funded projects on developing training materials for vocational sector.
A full 3 days of very exiting presentations and key note speakers: Ron Strauss from USA, Clare Chambers from UK, Anna Faustova from Russia, Zali Yager from Australia and Elena Rossini – filmmaker from Italy.
appearancematters.eu
Triskelion staff participated in the 13th international Cleft congress, which was held in Chennai, India in February 2017. Some of the highlights included;
Let NGOs … Think, Treat and Teach…
Psychosocial Adjustment to Cleft: Putting Patients at the Center of Care
Evidence Based Therapy for Cleft Speech
Exploring Attributable Risk Due to Genetic and Environmental Factors in Orofacial Clefts
Network Between Orthodontist and Surgeon During Management of Patients with Oro-Facial Clefts: Infancy to Adolescence
Dr Martin Persson facilitated a meeting in Kristianstad, Sweden where an innovative education module for healthcare professionals was discussed and finalized.
The IHEM project (Optimising the psychosocial care for individuals with birth defects in Europe by implementing an innovative training method for staff in health care and NGO settings.)
consortium have now published different resources available for download on the http://www.ihem.no/Resources

The 3rd International Congress of the Turkish Cleft Lip and Palate Society was held in Turkey, in the town of Konya, from December 1- December 4, 2016. Triskelion's close cooperation partner from Nis, Serbia, Julija Radojicic was invited to give lecture on the subject of the Implementation of European projects related to the care of persons with lip and palate clefts in Serbia. Aside from the completed project Face value, a special emphasis was placed on the IHEM project. The lecture received strong positive reaction from the attendants at the congress, and the biggest interest was to learn about the outcome of the project. Besides that, the attendants expressed a desire to implement similar projects across Turkey.
APPEARANCE MATTERS CONFERENCE –  LJUBLJANA, SOLVENIA 21 – 22 APRIL 2017 COST Action IS1210  APPEARANCE MATTERS –  TACKLING THE PHYSICAL AND PSYCHOSOCIAL CONSEQUENCES OF DISSATISFACTION WITH APPEARANCE appearancematters.eu