Another new Erasmus+ Strategic partnership project within higher education is approved by the Swedish National agency. The project is called Up & Go and deals with people with Downs syndrom.
Lead partner is Kristianstad University, and partners are Triskelion, Down syndrom international in Romania, Downs syndrome centre of Pula- Croatia and Lithuanian Welfare Society for Persons with Mental Disability.
The project will be starting 1. September 2018.
The Centre for appearance research in Bristol has a series of 28 podcasts on appearance issues.
If you are interested, see their page on soundcloud:
A new Erasmus+ KA2 strategic partnership project has been approved where Triskelion is partner.
Health Innovation, Implementation and Impact (HI3) is the name of the project starting Sept. 1st 2018.
Lead partner is Kristianstad University , while European Cleft Organisation, Ljubljana Stomatological clinic, Papageorgiou General Hospital, Riga Stradina University, University of Tartu and OAMGMAMR from Romania are other partners of the consortium.
The European Cleft Association is launching the new European Cleft Gateway;
The Gateway is a resource for families, health professionals and researchers. It is a comprehensive directory of specialist hospitals, doctors, researchers, support groups, scientific organisations and NGO's that work in the field of cleft lip and palate throughout Europe. Whether you want to search for the nearest hospital or specialist offering treatment of cleft lip and palate, or find a clinician interested in the same research area as you, this is the place to do it.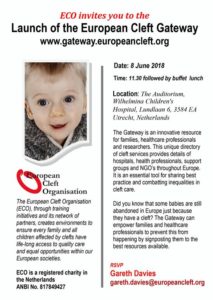 An introductory lecture was given by Dr. Martin Persson about the Cutting Edge Training project, which included the psychosocial aspects for patients undergoing appearance altering procedures, for healthcare professionals in Zagreb.
The background of the Cutting Edge Training project was part of comprehensive training for healthcare professionals at Srinagarind Hospital, Faculty of Medicine, Khon Kaen University and very was well received. Triskelion will now develop more trainings for the Thai hospital.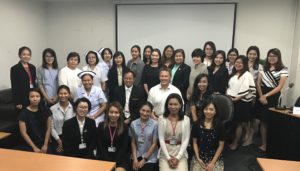 The project has already attracted quite a lot of media attention in Sweden. Over 45 newspapers have reported about the Cutting Edge Training project, including Aftonbladet, Lärkartidningen, and Metro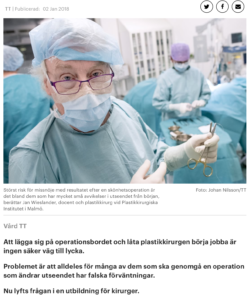 According to new guidelines from the American Academy of Pediatrics (AAP), a two-fold simple approach could be used to prevent  teenage obesity and eating disorders.
The report "Preventing Obesity and Eating Disorders in Adolescents," published in the journal Pediatrics, advises that parents and health experts should veer from focusing on a teen's overweight body and need for diet. Instead, they should promote a healthy lifestyle balance and that comes with healthy eating.
Many eating disorder programs have noted a marked increase in the number of teens who previously were obese or overweight but who now show early signs of developing eating disorders. In their attempt to lose weight the adolescents may have come to rely on unhealthy and unsustainable methods such as skipping meals or using diet pills or laxatives.
Some who reach normal weights for age and body size also may develop medical and psychologic characteristics similar to teens with classic anorexia nervosa. They may present to the pediatrician with signs of medical instability that can include severe bradycardia (slow heart rate) or orthostasis (postural hypotension).
Three recommendations focus on behaviors to avoid: parents and doctors should discourage dieting, skipping of meals, and the use of diet pills. Instead, they should encourage and support the implementation of healthy eating and physically active behaviors that can be maintained on an ongoing basis.
Two recommendations emphasize behaviors to promote: parents should encourage more frequent family meals, and parents should support a positive body image among teenagers that can motivate them toward developing healthy eating and physical activity habits.
see more : https://www.healthychildren.org/english/healthy-living/pages/default.aspx
The 16th of March 2018, the Correct it group met at the University of Foggia, Italy to evaluate curriculum development and discuss dissemination and further steps of product development. The curriculum will be peer-reviewed and translated into all partner languages, and it will be available from the project website : Correct-it.eu