European cleft Organisation is now training healthcare workers online in response to current restrictions on travel and face to face meetings as a result of the global pandemic.  They have a five-session course over seven weeks for front line health professionals in Barcelona, Spain, and focusing on early cleft care with an emphasis on feeding.  The training  is based around our Early Care Training Programme developed with a grant from the EU Erasmus programme in 2017
They work with leading clinicians and researchers from world-class institutions across the UK to achieve the ultimate aim: scar free healing within a generation.
Behind every scar is a story and they put the people living with scarring at the heart of all that they do. 
Watch their video to hear more from their Ambassadors.
EUROTEQ – clinical measurement literacy for EUROpean Transparency and
EQuality in health, a project within the framework of Erasmus+ has been approved. It is a 36 months project with the focus on
The objectives of this project are to develop, test, implement and disseminate the training package for Health Care Professionals, patient organisations and other relevant stakeholders, enabling them to facilitate person-centred care and support the inclusion of patient and public involvement, especially those from socially disadvantaged group, in health research. A further objective is to produce a functional training programme, reflective of the sociocultural diversity across Europe.
The project will start ultimo 2020
EU just publishes the results from the Capacity building in the field of higher education and Høgskolan Kristianstad in Sweden was granted the project "nEUROcare – a European initiative for capacity building to meet the challenges of caring for people with neurodegenerative disorders in Sri Lanka", where Triskelion is partner. This will be a 3 year project starting in January 2021. These types of projects exist to support the modernisation, accessibility and internationalisation of higher education in the target country.
https://eacea.ec.europa.eu/sites/eacea-site/files/cbhe_2020-results.pdf
The Erasmus+ project Empowering Parents of Children with Clefts Speech, Communication and Resilience (SCR4Cleft) has now launced the website.
The IHEM project was just selected as a success story in the Erasmus+ pool. "Success stories" are finalised projects that have distinguished themselves by their impact, contribution to policy-making, innovative results and/or creative approach, and can be a source of inspiration for others.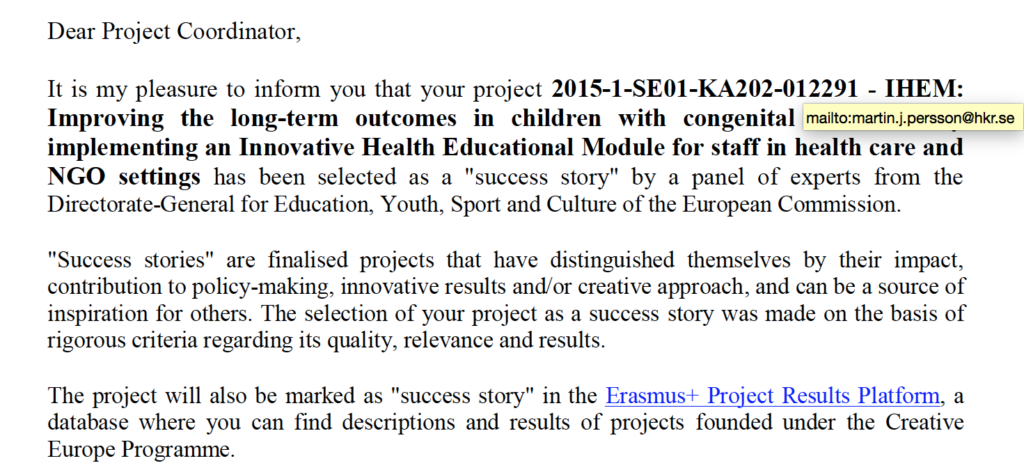 The project team met on the 24th february 2020 to discuss the pilot tests and final adjustments to training modules. There were valuable comments from the pilots that could be implemented in our materials.